Accurate and quick short drilling
up to 3 x d with additional 90° chamfer
Pilot drilling or short drilling 
CrazyDrill Pilot SST-Inox (pilot respectively short drill) represents a well-coordinated program with the deep hole drills as CrazyDrill SST-Inox or CrazyDrill Flex SST-Inox. The base for precise drilling and stable machining is provided by the pilot drilling with CrazyDrill Pilot SST-Inox or, on inclined surfaces by CrazyDrill Crosspilot. The pilot drill ensures a high position accuracy due to its short and sturdy construction. The pilot hole is the guidance for the subsequent drill to guide it cylindrically and guarantee the straightness and perpendicularity of the deep hole.
The quality of the drilling (no measurable transition from pilot hole size to follow-up deep hole size) as well as the stable machining process (no jamming) are guaranteed by means of a predetermined tool tolerance.
Realizing fast and easily short bore holes? CrazyDrill Pilot SST-Inox is also a perfect solution for accurate and quick drilling of short holes up to a drilling depth of 3 x d with 90° chamfer. 
Tolerance of the pilot drill CrazyDrill Pilot SST-Inox:
+ 0.002 mm / + 0.006 mm (+ .00008" / + .00024") (m5):
General information
In the industry of metal work tools, shorter processing times are always in high demand. At the same time, the requirements to the manufacturing precision and the process reliability are extremely high. In order to fulfill these requirements, the "machine tool – spindle – tool – tool holder" system need to be considered as a whole (see additional info).
For the use of the CrazyDrill Pilot SST-Inox, Mikron Tool has defined a fast and reliable procedure which achieves optimal drilling results.
Quick short drilling up to 3 x d and 90° chamfer or pilot drilling
Pilot drilling or short drilling up to 3 x d in one step
Drilling up to 3 x d with CrazyDrill Pilot SST-Inox in one step (see cutting data chart)
1. CrazyDrill Pilot SST-Inox:
Activate internal or external cooling

Drilling in one step with recommended cutting speed and feed rate (see cutting data table)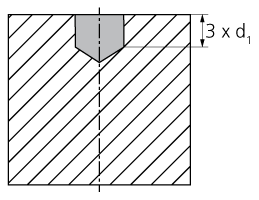 If needed, after the desired cutting depth of 3 x d is reached, a chamfer angle of 90° can be realized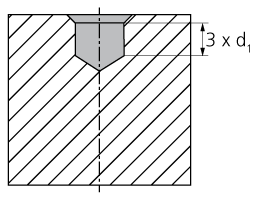 Note:
After the drill reached desired cutting depth, return at increased feed rate (or in case of perfect conditions rapid traverse) to safety position.
Mikron Tool has determined the ideal cutting parameters (drilling speed to tool life ratio and process reliability) when using CrazyDrill Pilot SST-Inox. These are listed in the cutting data tables according to drill diameter, drilling depth and material to be machined. The detailed cutting data tested by Mikron Tool, such as cutting speed vc, feed rate f and drilling impact Q, permit a quick and secure machining.
The overview of the cutting values table according to material group, material type, hardness degree and tensile strength, material number, DIN and AISI/ASTM/UNS permits quick determination of the parameters to be used.
An impact-resistant and user-friendly drill packaging is absolutely necessary for CrazyDrill Pilot SST-Inox. Mikron Tool offers all tools of the CrazyDrill Pilot SST-Inox family in a high quality, single package.
Notes or further questions
Please find more information about tool holders, cooling or lubrication under "Additional Info".
Mikron Tool has an international team of cutting technology experts who  are pleased to answer your questions (how to use a drill, tools, machines, tool holders, cooling, machining process…).
Use this link to contact us directly.