Save resources – reduce costs
The supplies of raw materials for tungsten carbide tools (cobalt and tungsten) are limited worldwide and are thus expensive, which is also a reason to handle these resources carefully to obtain maximum efficiency (even though good prices for scrap material are obtained on the market). This we owe to our environment.
Regrinding is worthwhile!
Economics is the most often used argument in the industry for the recycling of worn-out tools. Where regrinding is possible, the price in the secondary and tertiary use goes down significantly. No new raw material is necessary, the diameters are already available, only the cutting edges are reground. Before purchasing a tool it is worthwhile to find out whether regrinding is possible. If it is, it reduces the overall cost of a tool.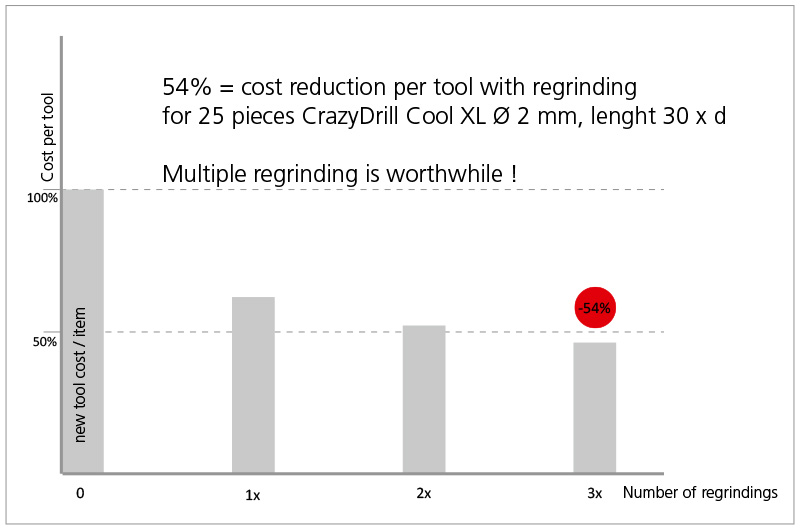 Example: The regrinding of a CrazyDrill Cool XL (best drill bit for steel) shows the following: Thanks to multiple regrindings, the tool costs can be reduced by up to 60%. 
High quality even after regrinding
Regarding the quality of the end product, there is no difference at Mikron Tool between the grinding of all types of drill bits and the regrinding of the drills. The same is obviously valid when regrinding milling cutters or other tool types.
The regrinding begins with an accurate inspection and selection of the incoming used tools. Whether a given tool can be reground or not depends mostly on its condition. The tools with strong chipping of the cutting edges, completely worn-out cutting edges or tools that have already been reground many times have to be rejected and discarded.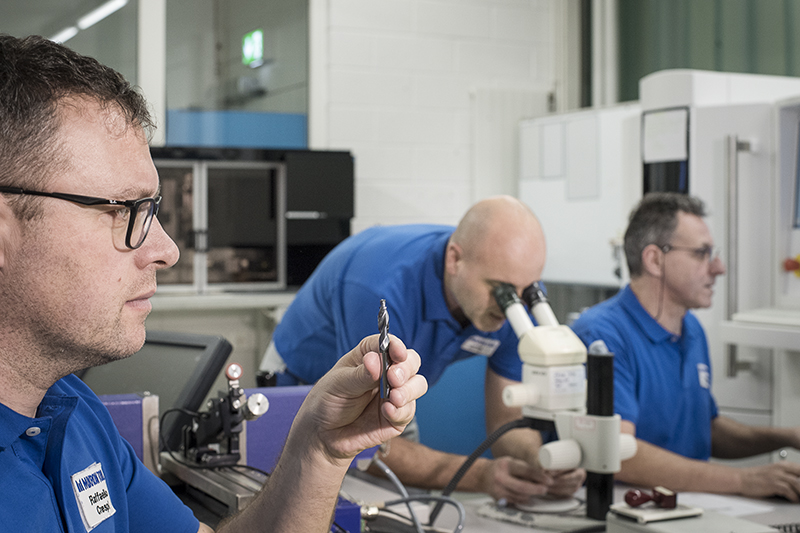 Why should the customer come to the original manufacturer for regrinding? Only the manufacturer knows exactly his tools. He guarantees that nothing will be left to chance during the regrinding: All parameters are taken over from the original manufacturing process of new tools: The same grinding machine, the same grinding wheels, the same grinding programs and new original coating, renewed surface treatment and final quality control after the regrinding. This way the user is guaranteed that the quality of the reground tools is identical and he can continue to operate with the same cutting parameters. There is no need to pay attention whether new or "second hand" tools are used; the results are identical.
Compared to the new tools from Mikron Tool, this means the following for the customer:
Protecting the environment and economical use of the resources

Identical quality

100% the same performance

Increasing the economic efficiency
Bottom line:
It is worthwhile to obtain information about the possibilities for reconditioning of tools already during the purchase phase of new tools.
Contact us here to know more about the Mikron Tool regrinding possibilities.