Quantum leap in the milling
of stainless steel
With CrazyMill Cool Z2, Mikron Tool has made a quantum leap in the milling of stainless steel, titanium, chromium-cobalt-alloys and superalloys.
The newly designed roughing and finishing cutter improves current results many times over and in every aspect. From now on new standards apply to the milling of grooves, pockets and walls in relation to cutting speeds, performance, tool life and surface quality. It combines HSC (high-speed cutting) and HPC (high-performance cutting), thus becoming an HSPC (high-speed performance cutting) milling tool.
Everything is new: the tungsten carbide, the geometry, the coating and especially the coolant supply through the shank which ensures perfect cooling on the cutting edges and removes chips effectively from the work area.
Three versions of cylindrical (small protection phase of 45°) and toric (corner radius) micro-milling tools are available in standard milling sizes of diameter 0.3 – 6.35 mm (.0118" - .250", fractional inches available): a short one for maximum milling depths of up to 1.5 x d, a medium one up to 3 x d and a long one up to 5 x d. The cutting length for all three is 1.5 x d.
CrazyMill Cool Z2 – revolutionary in every detail
CrazyMill Cool Z2, a solid carbide end mill cutter with through-tool cooling in the diameter range of 0.3 to 6.35 mm (.0118" - .250", fractional inches available), deserves its crazy name. Groove or pocket milling into solid material as well as contour milling are its strengths. In its double function as a roughing and finishing cutter CrazyMill Cool Z2 promises high efficiency, long tool life and a much better surface quality.
Various factors contribute to this:
Micro-grain carbide

Cutting geometry

High-performance coating

Through-tool cooling channels
First, the raw material, a newly developed micro-grain carbide, which meets the high requirements in terms of hardness and strength. The sturdy tungsten carbide shaft allows stable and vibration-free milling. The highest degree of precision and surface quality are achieved because of this.
What is also significant is the tool design with a cutting geometry that is developed specifically - but not only - towards the machining (for example on micro milling machine) of stainless steels, where the milling tool performs at its best. A strong cutting wedge, radial relief and precise edge preparation are responsible for the high degree of cutting edge quality and stability.
The specially developed high-performance coating eXedur RIP also makes an important contribution to the tool life. It is wear-resistant and heat-resistant and, thanks to an extremely low friction coefficient and a reduced affinity to steel, there is no material buildup on the cutting edges. Furthermore, it prevents chips from jamming in the flutes. The result is long tool life.
Through-tool cooling channels
However, the essence of innovation is embodied in the three to five cooling channels which run through the shaft of the small milling tool and exit on the tool cone (milling tool with 3, 4, 6, 10 mm (.118", .157", .236", .394") shaft). They ensure that the coolant jet flows along the tool diameter up to the cutting edges. The result is constant and efficient cooling of the cutting edges, and hence the highest cutting speeds and maximum performance ap. In addition, targeted flushing of the chips is guaranteed. Because of this the highest surface quality is reached.
Your personal CrazyMill Cool Z2
Mikron Tool also offers CrazyMill Cool Z2 in customer-specific executions:
Milling tools for hardened steel: Standardized up to 50 HRC, upon request up to 55 HRC

Milling tools with varying diameters, lengths and teeth to the standard milling program / sizes
Do you need more information about our possibilities? Contact us here.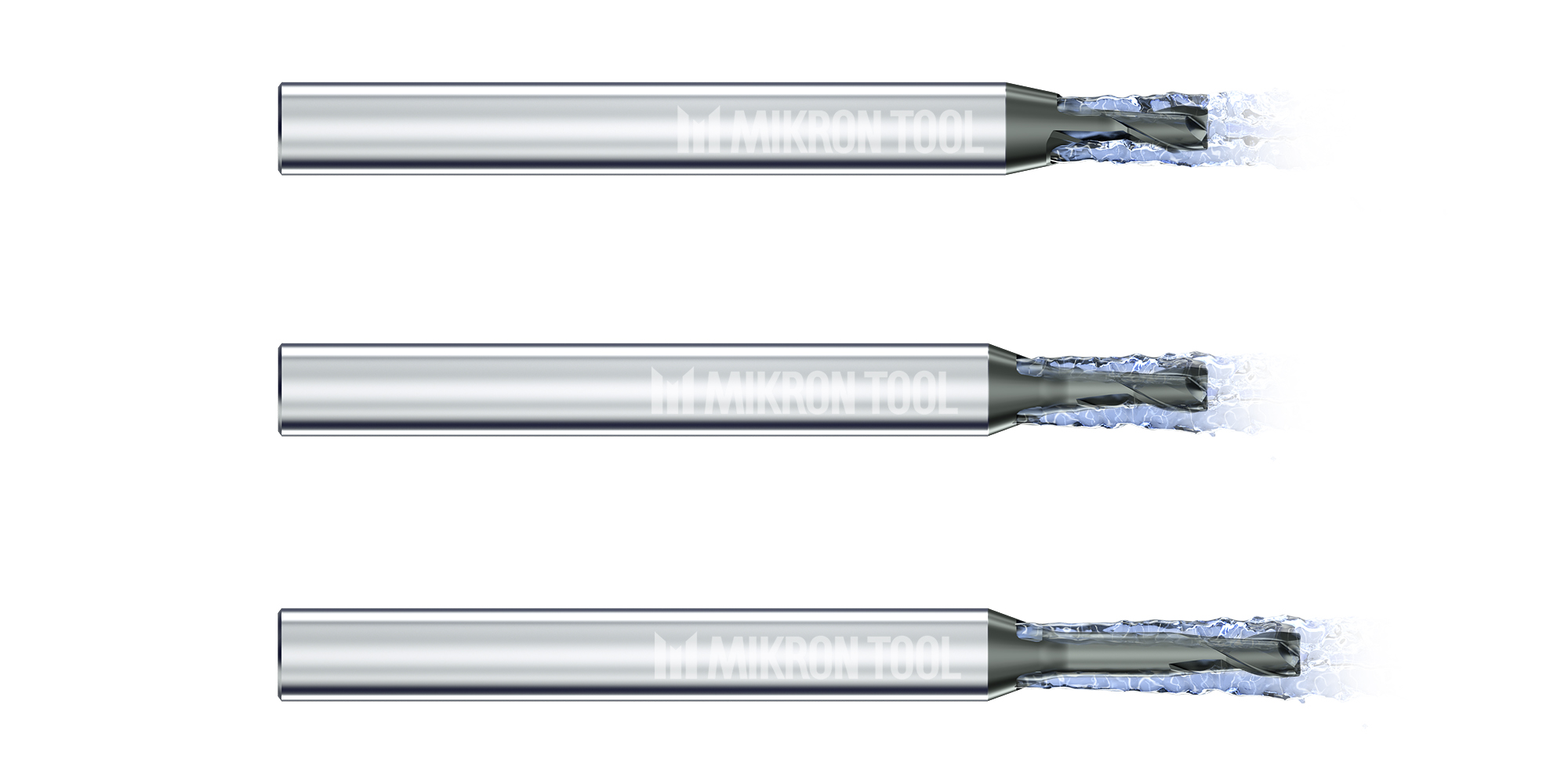 Accurate and efficient milling