Live demo at the Mecspe 2017 in Parma
- Innovative method to mill a bone plate made from Titanium
At the booth of SCHUNK (Hall 2 booth F09) interested visitors can see live the milling of a Bone Plate in titanium. The partners who participate in this project present their specific products, which together guarantee a high stability of the entire machining process.
Titanium, a material with unusual characteristics such as resistance and biocompatibility, was originally used mainly in the automotive and aerospace industries, but plays towadays also an important role in the medical sector, mainly in surgery applications in the special field of orthopedics. Thanks to its non-toxicity, its reduced specific weight and its low thermal conductivity, this material is well tolerated by tissues of the human body. With the increasing life expectancy and ongoing research for better quality of live also in advanced age, orthopedics made from titanium are widely used.
A stable and reliable process when machining titanium is a challenge
The machining of titanium, pure or in alloys, faces various difficulties due to its poor thermal conductivity and its chemical reactivity. High temperature is created at the tip of the tool due to this poor thermal conductivity and the small and fast moving chips. Because of overheating the risk of a cutting edge break-out is very high. Hence the stability of the entire machining operation and the tool life suffer. A good cooling is therefore indispensable, above all because titanium under high pressure and temperatures above 300º reacts with carbon, oxygen and nitrogen and risks to ignite. SCHUNK, MIKRON TOOL, GF and CIMCOOL demonstrate new and innovative solutions for the efficient und process-stable machining at the example of a bone plate made from titanium.
Three milling cutters from Mikron Tool are used in this application: The rough milling and finish milling of the operation is done by CrazyMill Cool Ball Ø 6 mm, milling length 5 x d and 3 x d, reaching a high degree of chip removal due to the cooling channels integrated in the shaft. The milling of grooves, pockets and faces is done with CrazyMill Cool Toric Ø 2mm and Ø 2.5 mm and milling length 3xD, this tool also comes with integrated cooling. For the chamfer and front side deburring CrazyMill Frontchamfer is being used, a deburring milling cutter with very sharp cutting edge which prevents creation of secondary burrs.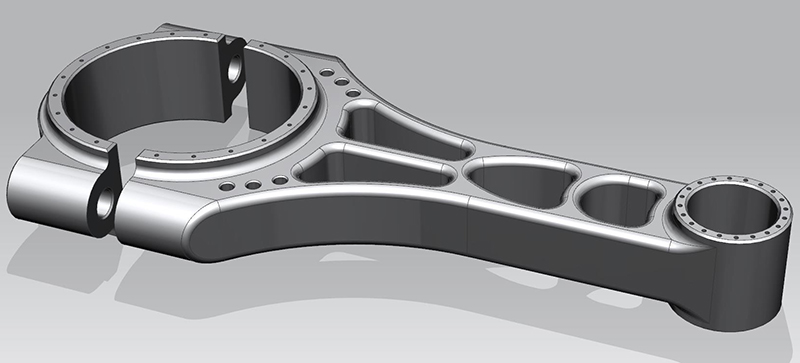 Furthermore: Mikron Tool is also one of the partners at the "digital factory" in the sector motor sport. In hall 4 a connecting rod made from stainless steel is being machined with various CrazyDrills amongst other tools on a CNC machining center from C.B. Ferrari.
And then there is also the project of the CNOP-FAP school from Arese which in Hall 6 has its own booth L55. The students machine in school a part on an automatic lathe from DMG and show this live on a monitor at their booth at the Mecsp. Here too, two tools from Mikron Tool are being used: CrazyDrill SST-Inox and CrazyMill Cool Ball.