Accurate and efficient milling with CrazyMill Cool Ball Z2
The newly designed, through-shaft cooled roughing and finishing cutter sets new standards in copy and wall milling in terms of cutting speeds, performance, tool life and surface quality. It combines HSC (high-speed cutting) and HPC (high-performance cutting), thus becoming an HSPC (high-speed performance cutting) milling tool.
The selected tungsten carbide, the geometry, the coating and especially the through-shaft coolant supply, which ensures perfect cooling of the cutting edges and removes the chips cleanly from the work area, support high cutting speeds, high depth feed ap (up to 1 x d) and high feed rates.
Three versions of ball micro-milling tools with two teeth are available in diameter of 0.3 – 8 mm (.0118" - .315", fractional inches available): a short one for maximum milling depths of up to 2 x d, a medium one up to 3 x d and a long one up to 5 x d. The cutting head of the ball micro-milling tool is of 2 x d.
Climb milling and conventional milling
Mikron Tool recommends climb milling for the machining of surfaces or edges. The chip thickness here is greater at the beginning and decreases continuously; the cutting forces remain low. With conventional milling, however, high cutting forces would push the milling tool away from the part. Thus surface quality decreases.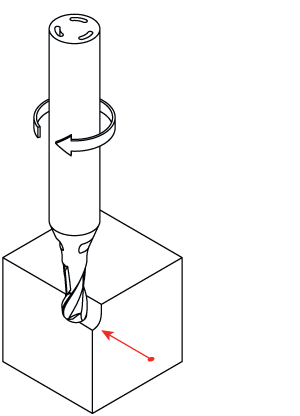 Roughing
Mikron Tool recommends vertical machining with respect to the workpiece for roughing with CrazyMill Cool Ball Z2 (machining angle 0°). This allows the maximum recommended cutting depth ap to be fully utilized. The result is an extremely high removal rate (Q [cm3/min]).
Recommended cutting parameters
vc and fz = as specified in the cutting data table
ap = max. 1 x d
ae = 0.3 x d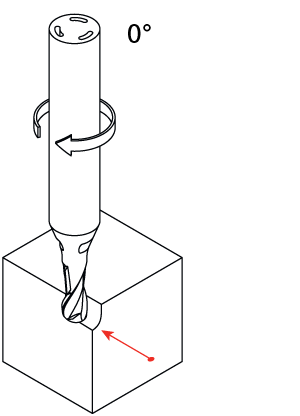 Finishing
Mikron Tool recommends machining at a machining angle of 15° or 75° with respect to the workpiece surface for finishing with CrazyMill Cool Ball Z2. This shifts the milling contact away from the tool's axis center towards its external diameter, where the ideal cutting geometry takes effect and also the cutting speed increases (the cutting speed is zero at the tool's center).
An angle of 15° of the milling body with respect to the workpiece brings certain advantages:
The cutting speed is higher

Longer tool life

Better surface quality

Short chips 
Recommended cutting parameters
vc and fz = as specified in the cutting data table
ap = 0.05 – 0.5 x d
ae = 0.05 – 0.15 x d depending on the required surface quality
ae = fz for maximum surface quality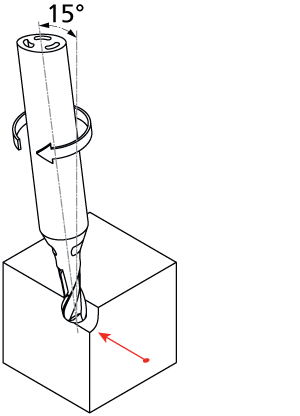 Mikron Tool has determined the ideal cutting parameters (ratio of tool life to process reliability) for the use of CrazyMill Cool. These are listed in the cutting data charts for the milling tool's diameter, milling tool type and type of machining (slot milling, side milling) as well as the material to be machined. Unique cutting data tested at Mikron Tool such as cutting speed vc, feed per tooth fz and cutting depth ap or cutting width ae ensure quick and safe machining.
The cutting data chart overview for material group, type of material, degree of hardness or tensile strength, material number, DIN and  AISI/ASTM/UNS ensure a quick determination of the cutting data to be used.
An impact-resistant and user-friendly drill packaging is absolutely necessary for CrazyMill Cool. Mikron Tool offers all tools of the CrazyMill Cool family in a high quality, single package.
Notes or further questions
Please find more information about tool holders, cooling or lubrication under "Additional Info".
Mikron Tool has an international team of cutting technology experts who  are pleased to answer your questions (how to use a drill, tools, machines, tool holders, cooling, machining process…).
Use this link to contact us directly.