Clamping devices, cooling and filter for flexible drills with and without integrated cooling
In the industry for metal work tools, shorter processing times are always in demand. At the same time, the requirements to the manufacturing precision and process reliability are growing. To fulfill these requirements, the "machine tool (all types of drilling machines) – spindle – tool – tool holder" system must be perfectly adjusted.
The following requirements have to be taken into account:
For the machine tool: High level of stiffness, vibration isolation of the foundations, lightweight design of the moving parts, high concentricity accuracy of the spindle, pull-in forces of the machine spindle, intelligent and quick machine controls

For the tool holder: High concentricity and balanced, friction-locked tightening of the tool

For the tool: High concentricity, excellent balance quality (geometry and shank design), long tool life (tool material, geometry, coating)
Hydraulic expansion tool holder
These ensure the high concentricity during drilling.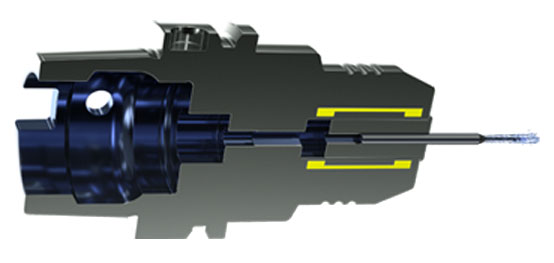 Characteristics:
Concentricity: 0.003 mm (.00012") (measuring point at 2.5 x D)

Max. speed: 50'000 rpm / balance rate (G 2.5 / 25000 1/min)

Precise concentric clamping

High torque transmission

Maintenance-free (closed system)

No wear in the clamping diameter

Longer (up to 4 times) tool life

Adjustable clamping force

Short tool change time (without additional devices such as, shrink fit device)
Application:
High-precision clamping of tools with cylindrical shaft

Universal tool holder for drilling and milling (roughing and finishing). Advantageous in the case of HSC processing (milling, for example on a small CNC milling machine) due to its shock-absorbing.
Shrink fit tool holder - shrink fit tool holder according to DIN 69871 
These guarantee highest concentricity with secure friction-fit connection and form an optimal connection between the tool and the holder.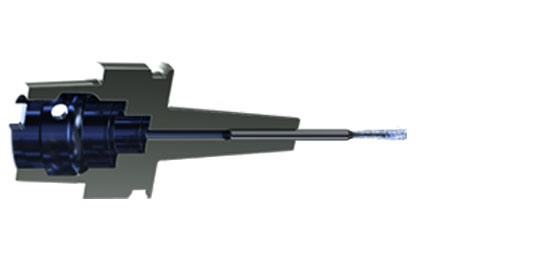 Characteristics:
Concentricity: ≤ 0.003 mm (.00012")

Max. speed: 40'000 rpm

Absolutely secure friction-fit force transmission

Adequate for shaft diameter of 4 mm (.157") (3 mm (.118") are conditionally possible).

Transmittable torque 2 to 4 times higher compared to the hydraulic-tool holder and the high precision collet tool holder.

Average tool change time (shrink fit device is necessary)

Suitable for machining in narrow spaces and interfacing edges due to the small overall construction size and longer versions
Application:
Optimal for HSC machining, in particular also for smallest drill bits

For milling and drilling tools with cylindrical shaft
Collet tool holder systems (ER collet chucks) according to DIN 6499-A / optimized precision collets
These guarantee highest concentricity.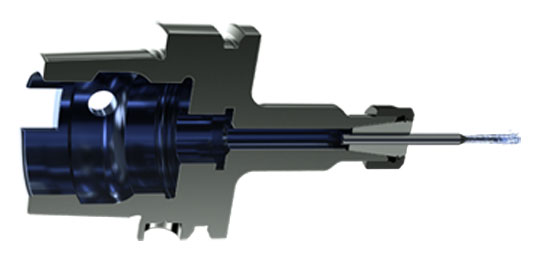 Characteristics:
Concentricity: 0.003 mm (.00012") possible

Max. speed: 40'000 rpm

Average tool change time (a torque wrench is necessary)
Application:
Clamping of tools with a cylindrical shaft in high precision collet according to DIN 6499

Universal tool holder for milling (roughing and finishing) and drilling.
Balance quality
The balance  quality of the collet tool holder is specially critical  in high speed machining processes.  The best possible balance  quality guarantees not only reduced vibrations of the tool  but increases tool life, improves surface quality and  above all, protects the spindle bearings.
Types of drilling machines
CrazyDrill Flex is used on drill presses, on CNC machining centers (also small CNC milling machines), automatic lathes and Swiss style lathes or (rotary) transfer machines.
Minimum speed 16'000 rpm (diameter of the drill 0.1 mm (.004"))

Minimum speed 10'000 rpm (diameter of the drill 0.2 mm (.008"))

Minimum concentricity of the spindle 0.005 mm (.00019")
Cooling lubrication / filter / coolant pressure
For best results, Mikron Tool recommends the use of cutting oil as coolant fluid. Alternatively, emulsion of 8% or more with EP-Additives (Extreme-Pressure-Additives) can be used with good results as well.
The big cooling channels allow a standard filter. Filter quality ≤ 0.050 mm (.002"). 
For the CrazyDrill Flex version with IK (drill diameter from 0.2 mm (.008"), at least 15 bar (218PSI) coolant pressure is necessary to drill in a process-reliable manner.
Higher pressure is preferred for the cooling and flushing effect.

For tools with external cooling no specific parameters have to be considered concerning coolant pressure. But it must be ensured that the coolant is conducted directly to the drill tip, thus cooling and lubricating the drill perfectly and flushing away the chips.