The "smallest" world sensation 2023 comes from Mikron Tool!
- The new exceptional milling cutter CrazyMill Cool Micro!
Mikron Tool is presenting its new high-performance micro milling cutter designed for roughing and finishing the most difficult-to-machine materials. The new CrazyMill Cool Micro Z3/Z4 - the smallest with integrated cooling and the first with material-specific cutting edge geometries - is available in the diameters from 0.2 mm to 1.0 mm (.008" – .039") with a milling depth of up to 5 x d.

Designed for high-performance materials such as stainless steels, titanium and titanium alloys, heat-resistant alloys (e.g. Inconel and Nilo) and CoCr alloys, it offers a significant increase in performance and maximum process reliability compared to conventional standard products. Above all, it demonstrates its strengths in side and slot milling as well as in milling with spiral interpolation.
The challenge of miniaturization
The increasing miniaturization of workpieces requires tools that are both high-performance and reliable, even for the smallest applications. They are increasingly sought after in medical engineering, in the watch and jewelry industry and in the electronic hardware industry. In response to this need, Mikron Tool has developed an exceptional new milling cutter for micro-machining.
For the first time, the engineers at Mikron Tool have succeeded in transferring complex high-performance cutting edge geometries to micro milling cutters. This requires a high level of expertise, not just in development work. From a production point of view, it is also a major challenge to implement such complex geometries in milling cutters with diameters smaller than 1.0 mm (.039") in the correction range of 0.1 µm (3.94 µin). This demands highly meticulous grinding skills from the grinding machine operator.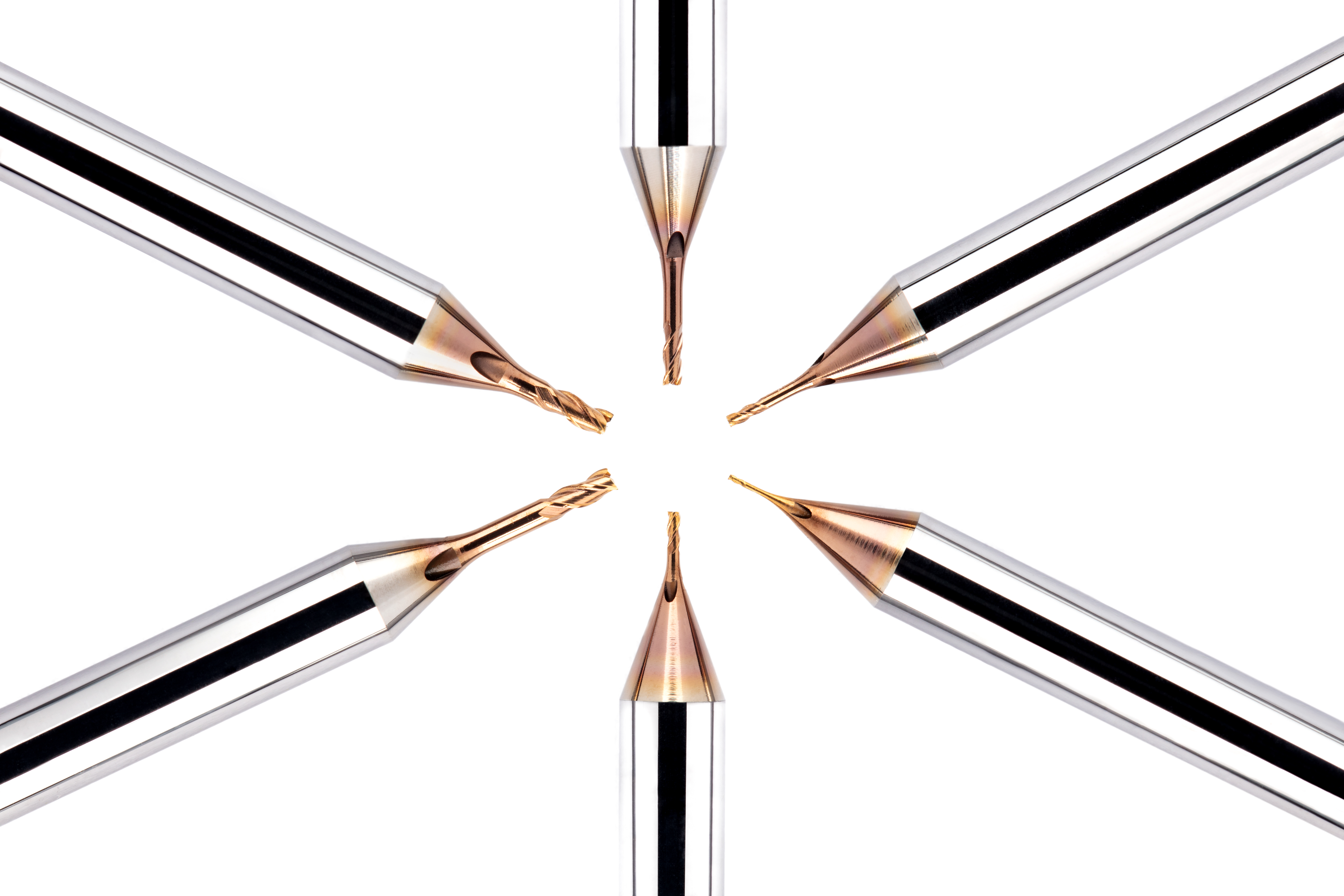 New material-specific cutting edge geometries S and SX
The specific material properties and the very different machining behaviour associated, were one aspect that played a decisive role in the development of this milling cutter. Two main groups of materials have been defined, each with a specific, precisely matched cutting geometry:
Geometry S

was specially developed for stainless steels, structural steels, non-ferrous metals and titanium alloys. It is characterized by a higher cutting capacity for materials with a specific cutting force of less than 2250 N/mm2 (326'335 psi).
 

Geometry SX,

featuring a special cutting edge protection, is suitable for materials with a specific cutting force greater than 2250 N/mm2 (326'335 psi) such as heat-resistant alloys and CoCr alloys.

For the first time, this allows high-performance milling of hard and difficult-to-machine materials in micro-production. Furthermore, the material-specific geometries process the material so perfectly that the formation of burrs is practically avoided.  And moreover the new geometries prevent tool deflection by combining high cutting ability with robustness, depending on the material, which inevitably leads to greater overall tool stability. The result: significantly higher removal volumes with perfect contour accuracy and significantly longer tool life. 
Stay cool!
High temperatures and temperature changes around the cutting edge are extremely critical issues for any high performance materials used in milling processes, especially when it comes to micro-manufacturing.

Mikron Tool's innovative cooling concept impresses with the cooling channels integrated into the shank, which, thanks to a special shape, direct high quantities of cooling lubricant directly into the milling area. With the effect that the cutting edges are constantly cooled. This enables to achieve the highest cutting values and significantly better material removal (compared to commercially micro milling cutters).
Edge wear prevention down to the µin range 
To produce those precise geometries and ultra-fine cutting edges, Mikron Tool relies on state-of-the-art ultra-fine carbide grades with high wear resilience combined with high fracture resistance. The grain size here is less than 0.5 µm (19.69 µin).
And the coating must also meet the demands of miniaturization. The new revolutionary Exedur SNP coating offers excellent wear resistance even at extreme operating temperatures. The high layer smoothness and the precise uniform layer thickness evenly protect all contours without impairing the cutting ability. Based to this coating, tool life is significantly increased, which results in a high level of process reliability.
The advantages of the new CrazyMill Cool Micro milling cutter at a glance:
Milling with high contour accuracy

No overheating of the cutting edges and chip-free milling area

Almost burr-free component

Excellent surface quality

Up to 3 x shorter milling process with 2 x longer tool life

Highest process reliability under the most difficult conditions.
With this new development, Mikron Tool achieves process reliability and economic production of components in the smallest dimensions, now also in high-volume production. 
Watch the video!