A Milling Cutter
for perfect surface finishes
in Stainless Steels & Co.
CrazyMill Cool Ball Z4, the newly designed four teeth Finishing Milling Cutter joins perfectly the already existing tungsten carbide milling cutters of the CrazyMill Cool family. This milling cutter also improves current results drastically in all materials. From now on new standards apply to semi-finishing and finishing in relation to cutting speeds, performance, tool life and surface quality. It combines HSC (high-speed cutting) and HPC (high-performance cutting), thus becoming an HSPC (high-speed performance cutting) milling tool.
Everything is new compared to conventional finishing milling cutters: the geometry, the coating, the tungsten carbide and especially the coolant supply through the shank.
The micro-milling tool CrazyMill Cool Ball with four teeth is available in standard milling sizes of diameter 1 – 8 mm (.039" - .315", fractional inches available) and for five milling depths: a short one for maximum milling depths of up to 2  x d, a medium one up to 3 x d and a long one up to 5 x d. The cutting length for these end mill cutters is 2 x d. Additionally two more versions with progressive flute-angle and milling depths of up to 3.5 x d resp. 4.5 x d are available. These ones with cutting length of 3.5 x d resp. 4.5 x d.
CrazyMill Cool Ball Z4 – the revolutionary Finishing Milling Cutter
CrazyMill Cool Ball with four teeth is a revolutionary tungsten carbide milling cutter, suitable for machining all materials but developed by Mikron Tool with focus on finishing of stainless steel, titanium alloys, heat resistant alloys based on nickel and chrome-cobalt-alloys. The coolant ducts integrated in the tool shank guarantee a constant and massive coolant jet to the cutting edges. Hence it is possible to work with highest speeds and working depths.  
Various factors contribute to this excellent performance:
Through-tool cooling channels

Cutting geometry

High-performance coating

Micro-grain carbide
Cooling, cooling, cooling
Especially machining stainless and heat resistant steels dictate that heat needs to be controlled, because it cannot be absorbed by the material and chips. The milling cutter of Mikron Tool handles this with 3 up to 5 coolant ducts integrated in the tool shank (4, 6, 8, 10 and 12 mm shank (.157", .236", .315", .394" and .472")). This delivers constantly a massive coolant jet directly to the milling area, independent of the work position and possible interfering edges. The tool receives continuously coolant and does not risk any overheating. Hence it is possible to simultaneously work with high speeds, feeds and working depths. This results in a high chip volume and excellent tool life. Another advantage is the continuous flushing of chips from the milling area, avoiding a repetitive cutting up of chips and the subsequent damaging of the milled surface and in turn facilitates in conjunction with the corresponding geometry a maximal surface quality.
The geometry: fine-tuned in detail
The geometry is entirely focused on reaching a high milling performance and surface quality. There is a flute-angle of 30º on the shorter tools (with cutting length 2 x d, 3 x d and 5 x d), whereas the longer versions (with cutting lengths 3.5 x d and 4.5 x d) have a progressive flute-angle increase from 30º into 40º. For these versions, the cutting length has been extended to allow milling at the radius and simultaneously at the cylindrical section. For both versions, short and long ones, the transition of 30° from the radius to the cylindrical section creates an optimal cutting edge corner stability and smooth milling without vibrations.
The specially developed high-performance coating eXedur SNP also makes an important contribution to the tool life. It is wear-resistant and heat-resistant and, thanks to an extremely low friction coefficient and a reduced affinity to steel, there is no material buildup on the cutting edges. Furthermore, it prevents chips from jamming in the flutes. The result is long tool life.
First, the raw material, a newly developed micro-grain carbide, which meets the high requirements in terms of hardness and strength. The sturdy tungsten carbide shaft allows stable and vibration-free milling. The highest degree of precision and surface quality are achieved because of this.
Your personal CrazyMill Cool Ball Z4
Mikron Tool also offers CrazyMill Cool Ball with four teeth in customer-specific executions:
Milling tools for hardened steel: Standardized up to 54 HRC

Milling tools with varying diameters, lengths and teeth to the standard milling program / sizes
Do you need more information about our possibilities? Contact us here.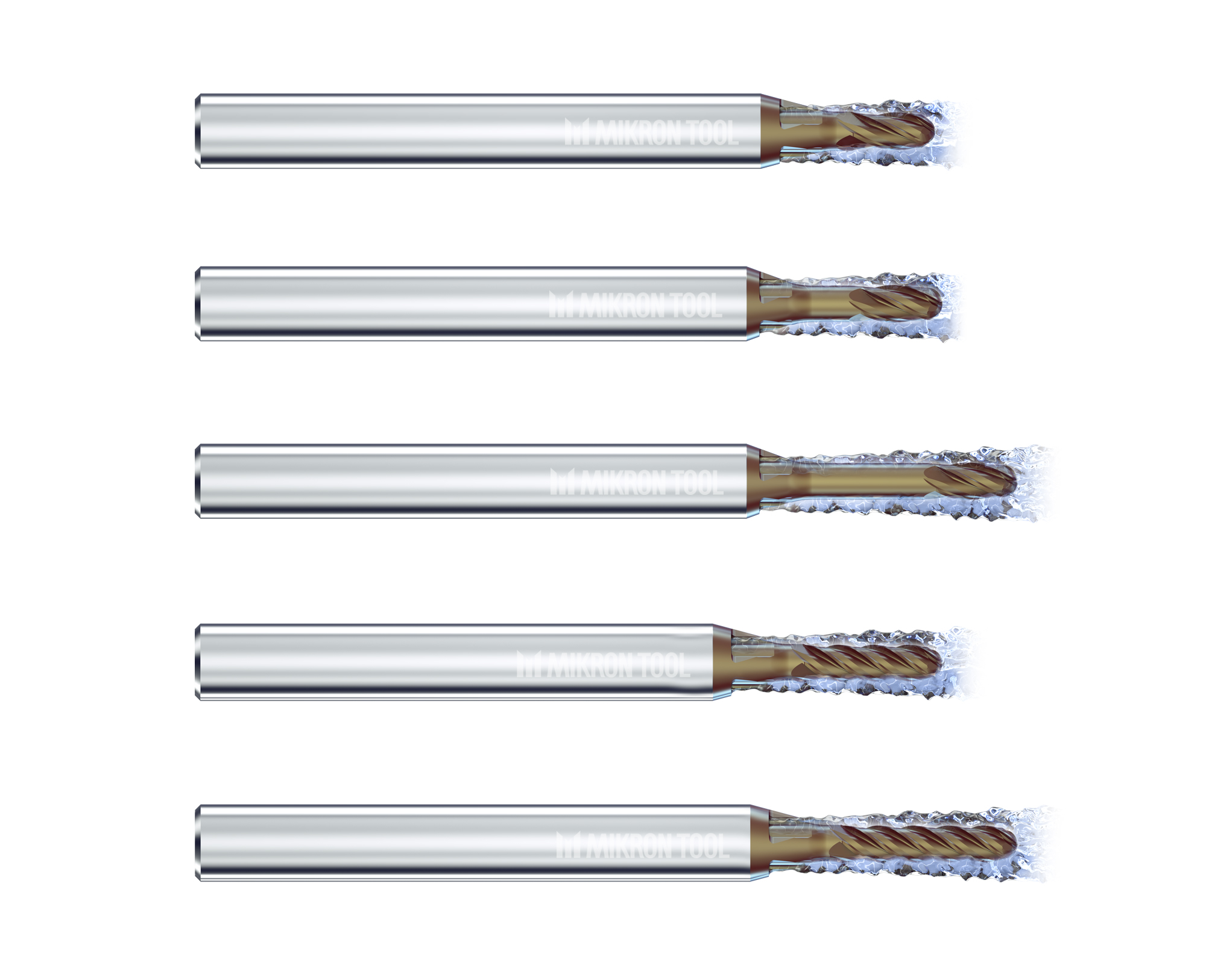 Accurate and efficient milling