Groundbreaking ceremony
- Mikron Tool celebrates the start of construction of the facility expansion on the Berner Feld
Mikron GmbH Rottweil's personnel celebrates a further milestone in the growth of their location: The groundbreaking for the construction of a new manufacturing building, which will increase significantly the production capacity for tools of Mikron Tool.

This is an expansion of the division Mikron Tool, which needs to add space to the present surface,  not large enough to house all the machinery needed for the future.
Starting 2020 the production surface will double which allows the installation of more grinding machines and hiring of additional employees. Markus Schnyder, head of Mikron Group's Tool business, is convinced that this project is an excellent investment for the future, because based on continuous developments and introductions of new product ranges an increasing order entry will have to be reckoned with.
After the start in 2003, this is already the second expansion of the tool production. In 2008 the division moved into their own manufacturing space after having operated and produced cutting tools for five years in the facilities of Mikron Machining.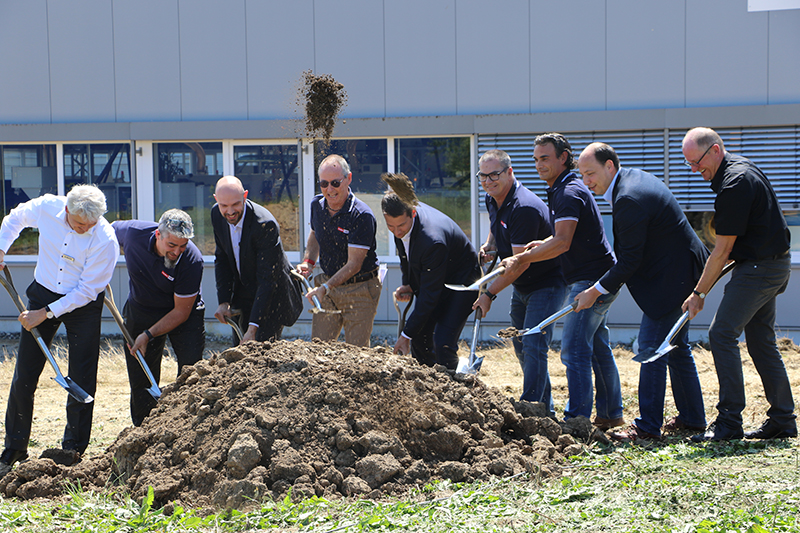 Tackling the job at the event did (from the left): Bruno Cathomen, CEO of Mikron Group, Elio Lupica, Managing Director of Mikron Tool SA Agno, Javier Perez, CFO of Mikron Group, Markus Schnyder, COO Mikron Tool Division, Peter Sauter, Managing Director of Mikron Rottweil, Karlheinz Völkle, Sales Manager Germany, Simone Pongelli, Factory Manager of Mikron Tool Rottweil, Christian Ruf, Mayor City of Rottweil and Berthold Gulden, Building Contractor.
Also present at the celebration were some neighbors from the Berner Feld and journalists from the Schwarzwalder Boten and the Neuen Rottweiler Zeitung.